1CPS Cable Pull Safety Switch by Honeywell
Featured Product from Honeywell Sensing & IoT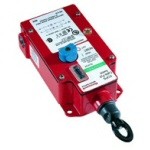 The 1CPS Cable Pull Safety Switch is intended for use in applications with the cable runs up to 76 m [250 ft], such as conveyor runs within defined system zones. It is a cost-effective means of providing this emergency stop signal compared to multiple emergency stop push buttons. (Cable Pull Safety Switches are not, however, to be used as a means of personnel safeguarding. They may be used to prevent further injury or damage to equipment when used for emergency stop signaling.)
The 1CPS Series Cable Pull Safety Switch is designed to provide emergency stop protection for exposed conveyor lines. The internal mechanism latches on both slackened cable (push) and pulled cable. This capability enhances productivity by eliminating nuisance stops due to variations in temperature, stretch of cable over time, and other application variables.
A line in the midpoint of the cable tension window indicates proper cable tension, providing easy and intuitive set-up. The direct acting switch contacts are held closed when the actuating cable is under proper tension and the reset knob is set to RUN. When the actuating cable is pulled, slackened or broken, a cam positively opens the NC (Normally Closed) switch contacts. The snap action, trip operation causes the switch contacts to change state and mechanically latch almost simultaneously when the cable is pulled, slackened or broken. The NC switch contacts remain open until the 1CPS is reset by properly tensioning the cable and manually rotating the reset knob.
When the direct acting switch contacts open, the auxiliary contacts also actuate (open contacts close and closed contacts open). The auxiliary contacts are electrically isolated from the direct acting switch contacts. These NO (Normally Open) contacts may be used for monitoring or signaling.
The 1CPS complies with: Low Voltage Directive 73/23/EEC, as amended by directive 93/68/EEC; Machinery Directive 98/37/EEC only as the directives relate to the components being used in a safety function; IEC/EN60947-1; IEC/EN60947-5-1; IEC/EN60947-5-5; UL, CE, CSA; UL, CE, CSA, SIL 3 capable.
Features:
Direct opening actions of normally closed contacts
Choice of 1NC/1NO, 2NC/2NO or 3NC/1NO, 4NC contact configurations
Typical cable span of 76 m [250 ft)] in an environment with a temperature change of ±17 °C [±30 °F] an endspring is used (longer spans are possible depending upon temperature change and installation
Large wiring cavity with straight-through wiring
24 Vdc or 120 Vac single red high intensity LED status indicator light available
Gold-plated or silver contacts available
Die-cast zinc housing
Optional hardware packs available
UL, CE, CSA, SIL 3 capable
Typical Applications:
Conveyor systems having a high amount of vibration
Conveyor systems that experience wide temperature swings
Conveyor systems where easy through wiring, or highly visible trip status is required
Perimeter guarding where hosedown conditions are present