Basic Board Mount Pressure Sensors - ABP Series
Featured Product from Honeywell Sensing & IoT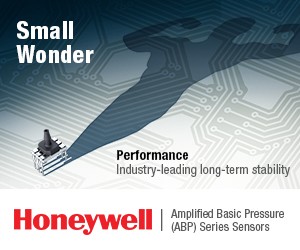 Honeywell's new Basic Amplified Board Mount Pressure Sensors, ABP Series is one of the industry's smallest compensated amplified pressure sensor in its class at 8 by 7 millimeters - helping significantly save PCB (printed circuit board) space and reducing manufacturing costs while still maintaining high performance and reliability.
The Basic Amplified ABP Series is a piezoresistive silicon pressure sensor offering a ratiometric analog or digital output for reading pressure over the specified full scale pressure span and temperature range.
The ABP Series is fully calibrated and temperature compensated for sensor offset, sensitivity, temperature effects and accuracy errors (which include non-linearity, repeatability and hysteresis) using an on-board Application Specific Integrated Circuit (ASIC). Calibrated output values for pressure are updated at approximately 1 kHz for analog and 2 kHz for digital.
The ABP Series is calibrated over the temperature range of 0 °C to 50 °C [32 °F to 122 °F]. The sensor is characterized for operation from a single power supply of either 3.3 Vdc or 5.0 Vdc. These sensors measure gage and differential pressures.
The Basic Amplified pressure sensors are intended for use with non-corrosive, non-ionic gases, such as air and other dry gases. The following options extend the performance of these sensors to non-corrosive liquids:
• No silicone gel coating: The input port is limited to non-corrosive, non-ionic media such as dry air and gases and should not be exposed to condensation. The gases are limited to media that are compatible with high temperature polyamide, silicone, alumina ceramic, silicon, gold, and glass.
• Silicone gel coating: Uses the same materials in the wetted media path but is protected from condensation by a silicone-based gel coating; allows use in applications where condensation may occur.
All products are designed and manufactured according to ISO 9001 standards.
FEATURES:
Proprietary, patented Honeywell technology
Small size: as small as 8 mm x 7 mm
Industry-leading long-term stability; : ±0.25 %FSS
Total Error Band (TEB); ±1.5 %FSS
Industry-leading accuracy: ±0.25 %FSS BFSL
Industry-leading flexibility
Wide pressure range: 60 mbar to 10 bar | 6 kPa to 1 MPa | 1 psi to 150 psi
Output: amplified analog; I2C- or SPI-compatible 14-bit digital output (min. 12-bit sensor resolution)
Energy efficient
REACH and RoHS compliant
Sleep mode, temperature output and liquid media options available
POTENTIAL APPLICATIONS:
Medical:
CPAP
Blood analysis
Blood pressure monitoring
Breast pumps
Drug dosing
Hospital beds
Massage machines
Oxygen concentrators
Patient monitoring
Sleep apnea equipment
Urine analyzers
Ventilators/portable ventilators
Wound therapy
Industrial
Air brakes
HVAC/transmitters
Life sciences
Material handling
Pneumatic control
Pneumatic regulator
Process gas monitoring
Valve positioning and positioners
Commercial
Air beds
Coffee makers
Washing machines