FMA Series - Small Footprint Digital Force Sensor
Featured Product from Honeywell Sensing & IoT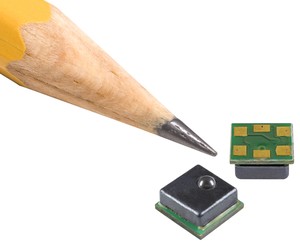 The FMA Series are designed to meet the customer's need for a compensated, amplified force sensor which provides digital outputs, a variety of force sensing ranges, a small, cost-effective format, and enhanced durability and accuracy. The flexible design provides multiple standard configurations over a wide operating temperature range.
VALUE TO CUSTOMERS:
Multiple force ranges allow the customer to choose the force range to maximize sensitivity and improve system resolution/performance.
Smaller package allows for space constrained applications.
Robust design provides enhanced durability in applications where overforce may exist.
Enhanced accuracy includes all errors due to force non-linearity, force hysteresis, and non-repeatability.
Reduced Total Error Band enhances system performance.
Digital output enhances performance through reduced conversion requirements and the convenience of direct interface to microprocessors. SPI- or I2C-compatible digital output.
Diagnostic functions allow the user to determine if the sensor is working correctly by detecting if electrical paths are broken or shorted inside the sensor.
Selectable supply voltages provide customers with design flexibility.
FEATURES
Small form factor: 5 mm x 5 mm [0.20 in x 0.20 in]
Accuracy: ±2 %FSS typical
SPI- or I2C-compatible digital output
Fully calibrated and temperature compensated over a temperature range of 5°C to 50°C [41°F to 122°F]
Available in a wide variety of standard and configurable force ranges
Overforce: 3X force range
Supply voltage: 3.3 Vdc typ. or 5.0 Vdc typ.
Low power consumption: 14 mW
Enhanced part-to-part repeatability
Enhanced reliability
Stable, stainless steel sphere interface
Internal diagnostic functions available
REACH and RoHS compliant
POTENTIAL APPLICATIONS
Medical: Infusion pumps, ambulatory pumps, enteral feeding pumps, kidney dialysis machines
Industrial: Load and compression sensing, touch panels, switch replacement, robotic equipment, weight measurement, force/grip measuring equipment