Hazardous Location Switches - Wireless Option
Featured Product from Honeywell Sensing & IoT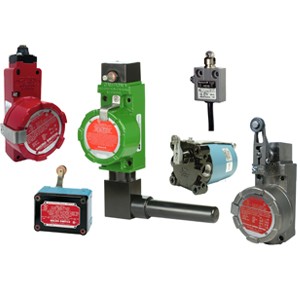 When conditions are hazardous and performance is critical, customers turn to Honeywell's MICRO SWITCH™ Limit Switches and Limitless™ Wireless Solutions.
Honeywell's MICRO SWITCH Hazardous Location Limit Switches are designed specifically for dangerous indoor or outdoor locations where potentially explosive gases may be present and where reliability and repeatability are essential. To comply with explosion-proof requirements, the flame path within the switch housing is designed to contain and cool escaping hot gases - fumes that otherwise could cause an explosion outside the switch.
Honeywell's newly introduced Limitless™ WBX Series combines the best of Honeywell's MICRO SWITCH™ Hazardous Location Limit Switches with a 802.15.4 point-to-point (P2P) wireless network - adding wireless capabilities by incorporating a radio board and battery power. It is available with a variety of remote or built-in antenna options.
Wireless-enabled limit switches can be used for position sensing and presence/absence detection for an endless number of applications - especially where wiring or wire maintenance is not physically possible or economically feasible. Combining this greater flexibility with proven harsh-duty packaging can result in increased efficiencies and improved safety for machines, equipment, and operators.
HONEYWELL MICRO SWITCH™ LIMIT SWITCHES:
Designed specifically for dangerous indoor or outdoor locations
Superior reliability and repeatability
Explosion-proof design contains flame path to contain and cool escaping hot gases
UL, CSA, ATEx and IEC Ex, INMETRO, EAC, CE, & NEPSI certifications
O-ring seals render switches weather-proof, water-tight, and dust-tight
Options include non-sparking actuators, captive cover screws, grounding screws, silver/gold contacts
Smallest UL-housing available for use in hazardous locations
HONEYWELL LIMITLESS™ WBX SERIES:
Wireless design for remote control and monitoring: Radio (license-free, global) WPAN 802.15.4 (IEEE802.15.4), 2.4 GHz, P2P. Up to 305 m [1000 ft] line-of-sight communication range (monitor sold separately)
AES 128 bit encryption: for a secure network
IP67 (self-certified), NEMA 4 sealed metal enclosure
Powder-coated aluminum housing for enhanced durability and corrosion resistance.
cULus, ATEX, IEC Ex certifications
Easily add, subtract, reconfigure or relocate switches
No wires to pinch - Eliminates issues with wire connection integrity on moving equipment.
Reduced installation and maintenance costs
Uses off-the-shelf batteries
Global use: Designed for global availability; variety of Limitless™ inputs with simple and universal PLC connections allows for use in most applications; simplifies design-in process, eliminates tooling costs and reduces manufacturing labor costs.
POTENTIAL APPLICATIONS:
Grain elevators, grain diverters or flaps
Offshore drilling
Pipeline valves, pipeline pig monitoring
Petrochemical and waste treatment plants
Paint booths
Hazardous waste-handling facilities
Maintenance equipment
Agricultural equipment