Honeywell Industrial Pressure Sensor – Model IP IS
Product Announcement from Honeywell Sensing and Internet of Things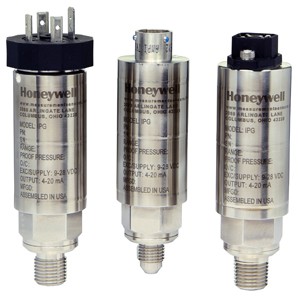 Now with Intrinsically Safe Option (Global Approvals)

Honeywell is pleased to introduce its Industrial Pressure Sensors, Intrinsically Safe, Model IP IS (Global Approvals), a new platform designed to provide repeatable, reliable and accurate pressure measurements over time.
Highly Configurable, Durable and Accurate
These rugged, stainless steel, all-welded devices are configurable with the most commonly requested industry options, simplifying and providing flexibility of the sensor use in the applications. They may be used in many demanding, harsh environments and with a variety of media.
Each sensor is fully temperature compensated and calibrated for durability and accuracy. Available with a wide standard compensated temperature range, standard and enhanced accuracy options and are shock and vibration tested.
FEATURES:
All-welded, 300 series stainless steel and Hastelloy®
7 bar to 350 bar [100 psi to 5000 psi] pressure range
Accuracy options: Standard accuracy: IPG2 provides ±0.25 % BFSL
Optional enhanced accuracy: IPG1 provides ±0.15 % BFSL
4 mA to 20 mA current output
±2 % FS Total Error Band
IP65 rated protection
<2 ms response time provides accurate, high-speed measurement
CE and RoHS compliant¹
Intrinsically Safe: cFMus/ATEX, IEC Ex certification
POTENTIAL APPLICATIONS:
Industrial:
Oil and gas industrial process control (gas head control panels)
Factory automation/industrial equipment
Pump/compressor control
Power generation (wind, propulsion)
Flammable inventory control
Paint booth spraying
Transportation:
MORE INFORMATION:
Honeywell Model IP IS Intrinsically Safe Pressure Transducer Datasheet
Visit our website
---