Honeywell Magnetoresistive Sensor ICs - Standard
Featured Product from Honeywell Sensing & IoT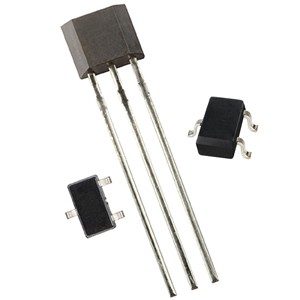 New Options Added To Portfolio!
Honeywell is pleased to announce an addition to our Magnetoresistive Sensor IC portfolio - the Standard Power Series. These sensors are designed for manufacturers needing durable and reliable speed or position sensing for large air gaps or small magnetic fields in standard power (typically 3 to 24 Vdc) applications.
Unlike reed switches and other magnetic sensors, Honeywell's solid state design offers a sensitivity of 11 Gauss max., making it the highest sensitivity sensor in its class for standard powered applications and a cost-effective, flexible solution for position or speed sensing.
FEATURES:
Durable and reliable: due to magnetic solid state, non-contact, no-glass design which enhance switching capability
Simplifies design-in for wired applications due to its supply voltage range, omnipolar operation, SOT-23 and flat TO-92-style package options and wide operating temperature range
Magnetic sensitivities - Choose:

Ultra-high sensitivity (SM351RT and SM451R): For applications requiring ultra-high magnetic sensitivity (7 G typical operate, 11 G maximum operate)
Very high sensitivity (SM353RT and SM453R): For applications requiring very high magnetic sensitivity (14 G typical operate, 20 G maximum operate)

Package styles:

SOT-23 (SM351RT, SM353RT)
Flat TO-92-style (SM451R, SM453R)

Supply voltage range 3 Vdc to 24 Vdc
Omnipolar sensing activates with either pole from a magnet
Temperature range -40 °C to 85 °C [-40 °F to 185 °F]
SOT-23 supplied on tape and reel (3000 units per reel)
RoHS-compliant materials meet Directive 2002/95/EC
POTENTIAL APPLICATIONS:
Industrial:
High frequency flow sensing in HVAC, water, fuel meters, and gas utility meters
Anti-tamper detection in water, electric, and gas utility meters
Liquid level detection
Motor RPM sensing
In-cylinder position sensing
Medical:
RPM sensing in exercise and rehabilitation equipment
Magnetic interrupt in exercise and rehabilitation equipment
Absence/presence detection in infusion pumps
Position sensing of medication dispensing cabinet drawers
Incline position sensing in hospital beds
White Goods:
Lid, door and drawer position detection
Fluid flow detection
Liquid level detection