Honeywell Model 434 / Model 435 / Model 437
Featured Product from Honeywell Sensing & IoT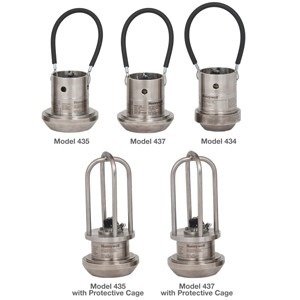 Honeywell is pleased to announce the latest addition to our Wing Union / Hammer Union pressure sensor portfolio, the new Model 434, which joins the Model 435 and 437. All models are designed for use in demanding oil and gas applications such as well stimulation and media circulation systems.
The new Model 434 is built for high pressure applications (up to 20,000 psi) with ±0.2 %FSS BFSL accuracy and is compatible with WECO® 2002/2202 Wing Union fittings.
Honeywell's Model 435 is available in two accuracy levels (±0.2 % BFSL (Best Fit Straight Line) - Standard) or (±0.1 % BFSL - High Accuracy) for use in pressure applications up to 15,000 psi, while the Model 437 ( ±0.2 % BFSL ) offers a wider aperture / shallow sensing port for use with higher viscocity media blends. Both the Model 435 and Model 437 are compatible with WECO® 1502 Wing Union fittings.
All three models are built on Honeywell's time-proven Wing Union all welded, stainless steel one-piece design with Inconel® X-750 machine wetted parts for use with abrasive/corrosive media for rugged performance in the field. Optional protective cage provides extra electrical connection protection and increases durability.
NEW!: Optional NACE-compliant Inconel® 718 wetted parts are available on the Model 434, 435, and 437, allowing for use in sour gas applications where natural gas or any other gas containing high amounts of hydrogen sulfide exist.
POTENTIAL APPLICATIONS:
Oil and gas exploration/drilling including:
Acidizing
Choke manifold
Fracturing and cementing
Mud pumps / mud logging
New well development and extraction
Oil and gas drilling
Service and cement trucks
Standpipe
Stimulation
Well head measurement
Need special modifications or a custom design? Contact us to discuss your requirements.