Honeywell Potentiometers
Featured Product from Honeywell Sensing & IoT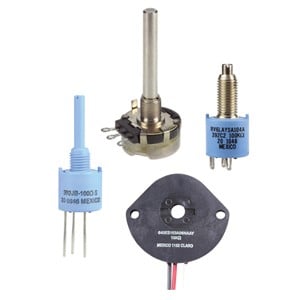 For rugged, long-lasting, cost-effective rotational position sensing and performance - turn to Honeywell Sensing and Control potentiometers.
Built on the trusted Clarostat and Honeywell legacies of high quality, high-performance position sensing, Honeywell potentiometers (also known in the industry as POTS) convert rotary motion into a change of resistance, supplying a smooth transition of voltage or current levels, then used to control position movement in a wide variety of applications.
Available in cermet, wirewound, metal, plastic, or combination packages, sealed against dust or moisture, and sized to fit into tight spaces, as well as a variety of terminations and flexible mounting options to meet your needs.
Custom options are available - contact us with your application requirements
FEATURES:
Cost-effective - good performance at a reasonable price
Wide range of resistance values (100 Ohm to 5MOhm inclusive)
Small package size - for use in tight spaces
Long rotational life - greater than 1 million cycles
APPLICATIONS:
INDUSTRIAL/COMMERCIAL:
Audio and visual equipment - guitars, sound mixers, projectors, amplifiers
Foot pedal controls - guitars, sewing machines, woodworking equipment
Machine control joysticks, robotic arm position
Hand-held equipment - multimeters, mobile monitoring devices, walkie-talkies
Welding equipment - MIG wire feed, foot pedal controls, adjustment knobs
Test and measurement equipment - oscilloscopes
Material handling equipment position
Valve actuator position
Light switches
TRANSPORTATION:
Foot pedals, steering equipment
Vehicle manual controls - Gear shifter, joystick, and throttle position (e.g., construction/agricultural vehicles)
Industrial vehicle attachment position - forklift trucks
MEDICAL:
Hand-held equipment - mobile monitoring devices
Laboratory and diagnostic equipment