Honeywell Zephyr Digital Airflow Sensor HAF Series
Featured Product from Honeywell Sensing & IoT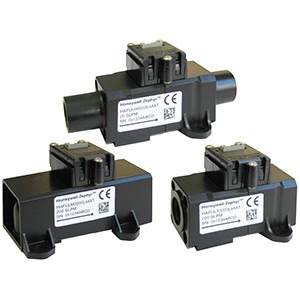 Honeywell Zephyr™ Digital Airflow Sensors: HAF Series - High Accuracy
Honeywell's Zephyr™ HAF Series digital airflow sensors are designed to measure mass flow of air and other non-corrosive gases. These sensors are fully calibrated and temperature compensated with an on-board Application Specific Integrated Circuit (ASIC). They provide a digital interface for reading airflow over the specified full scale flow span and temperature range, and their thermally isolated heater and temperature sending elements help provide a fast response to air or gas flow.
Honeywell's Zephyr™ Digital Airflow Sensors - HAF Series are available in airflow ranges from as low as 10 SLPM to as high as 300 SLPM-the industry's broadest airflow sensing range.
Low flow ranges: 0-10 and 0-15 SLPM
High flow ranges: 0-50, 0-100, 0-200 and 0-300 SLPM
Custom ranges also available
These sensors provide customers with enhanced reliability, high accuracy, repeatable measurements, and the ability to customize sensor options to meet many application needs.
What makes Honeywell Zephyr digital airflow sensors better?
Precise measurement: Industry's smallest Total Error Band (TEB) - as low as as ±0.25 %FSS, fast response time, and high accuracy for precise measurement and high performance.
Saves time: Configurable and customizable with a choice of port styles to simplify design and reduce production time
Cost effective: Reduces printed circuit board (PCB) size and overall design and production costs
POTENTIAL APPLICATIONS:
MEDICAL:
Anesthesia delivery machines
Laparoscopy
Spirometers
Ventilators
Ventricular assist devices (heart pumps)
INDUSTRIAL:
Air-to-fuel ratio
Analytical instrumentation (spectrometry, chromatography)
Fuel cells
Fume hoods
Gas leak detection
Process control gas monitoring
Vacuum pump monitoring