HumidIcon™ Digital Humidity/Temp Sensors
Featured Product from Honeywell Sensing & IoT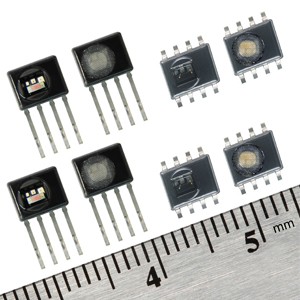 Honeywell's HumidIcon™ Digital Humidity/Temperature Sensors are relative humidity (RH) and temperature sensors combined in the same ultra-small package.
These sensors are available with RH accuracy levels between ±4.5 %RH (HIH 6100 Series) up to ±1.7 %RH (HIH 9000 series).
New and improved! : Temperature accuracy has increased from ±1.0% accuracy to ±0.5% accuracy for the HIH6000, HIH6100, HIH7000, HIH8000, and HIH9000 Series.
Offered with several packaging variations: (SIP 4-Pin or SOIC-8 SMD), and with hydrophobic filter or no filter, output (I2C or SPI) and packaging, (tape and boxed, tape and reel or samples on tape) - packaging options may differ by model (see datasheets below)
FEATURES:
One sensor does the work of two! - combined humidity and temperature sensor
Industry-leading long term stability (1.2% RH over 5 years)
Industry-leading reliability (MTTF 9.312,507 HR)
Wide operating temperature range -40 °C to 100 °C [-40 °F to 212 °F]
Cost-effective - lowest total cost solution
True, temperature-compensated digital I²C and SPI output
Energy efficient -low supply voltage, low power consumption
Ultra-small package
Able to be custom calibrated to support specific application performance ranges
POTENTIAL APPLICATIONS:
Medical:
Respiratory Therapy
Incubators / microenvironments
Industrial:
HVAC/R - Heating, Ventilation, Air Conditioning, Refrigeration
Air Compressors
Meteorology / Weather Stations
Humidifiers and Dehumidifiers
Telecom Cabinets
Agricultural Incubators / Microenvironments
Grain Drying / Grain Bin Management
MORE INFORMATION:
HumidIcon ™ HIH8000 Series ±2.0 %RH Accuracy - Datasheet
HumidIcon ™ HIH7000 Series ±3.0 %RH Accuracy - Datasheet
HumidIcon ™ HIH6100 Series ±4.0 %RH Accuracy - Datasheet