Intrinsically Safe Wireless Pressure Sensor,IS-WPS
Featured Product from Honeywell Sensing & IoT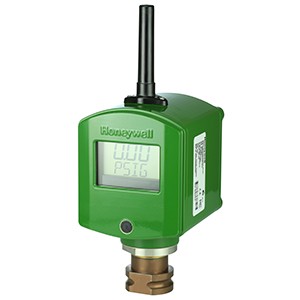 Honeywell's Intrinsically Safe Wireless Pressure Sensor!
Honeywell Wireless Intrinsically Safe Pressure Sensors, IS-WPS Series, is a WPAN 802.15.4-compliant wireless point-to-point (P2P) device that easily integrates into new or pre-existing instrumentation systems. It has a variety of remote or built-in antenna options.
It features an aluminum alloy metal enclosure finished with green epoxy paint, corrosion-resistant construction, and is suitable for outdoor applications in harsh environments due to its IP65 and IP67 sealed enclosure. Its pressure port and pressure diaphragm are made with corrosion-resistant material making it resilient to harsh process media. The direct or remote-mount antenna options add flexibility for adaptation to different applications.
The IS-WPS Series features products available for either P2P and ISA100.11a wireless networks.
The IS-WPS Series is beneficial for remote pressure monitoring applications in hazardous areas where wiring or wire maintenance is not physically possible or economically feasible. Combining this greater flexibility with packaging designed for harsh-duty can result in enhanced efficiency and ease in establishing remote, cost-effective process sensing.
FEATURES:
Radio (license-free and global): WPAN 802.15.4, 2.4 GHz wireless P2P or ISA 100.11a provides increased reliability, flexibility, and security in wireless transmission
Configurable platform: Designed for global availability
Provides a Total Error Band (TEB) of ±2.0 % within the operating temperature range
Measures gage or absolute pressure ranging from 0 psi to 500 psi through 0 psi to 15,000 psi
Ability to reconfigure multiple IS-WPS series sensors allows users to easily add, subtract, or relocate the IS-WPS Series sensor
Over-the-Air (OTA) provisioning
Can reduce costs: Minimizes installation/maintenance costs because there are no wires, conduit, clips, junction boxes etc.
IP65 and IP67 sealing
Designed to support direct mount or using bracket assembly for easier installation
Readily available batteries can be obtained from electrical supply houses and distributors
POTENTIAL APPLICATIONS:
Process monitoring of important pressures
Gauge replacement
Liquid level sensing (corrosive or non-corrosive)
Leak detection (detection of pressure drop)
Process pump failure monitoring
Well head monitoring
Irrigation water pressure monitoring
Equipment health monitoring
Tank level monitoring (water or corrosive liquids)