Limitless Hazardous Location Switches WBX Series
Featured Product from Honeywell Sensing & IoT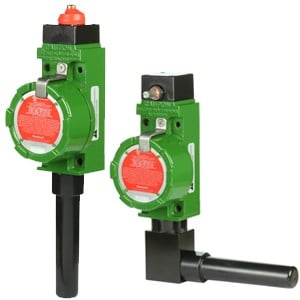 Honeywell's newly introduced Limitless™ WBX Series combines the best of Honeywell's MICRO SWITCH™ Heavy Duty limit switches with a point-to-point (P2P) network - adding wireless capabilities by incorporating a radio board and battery power. It is available with a variety of remote or built-in antenna options.
Wireless-enabled limit switches can be used for position sensing and presence/absence detection for an endless number of applications.
The WBX Series is especially beneficial for remote monitoring applications where wiring or wire maintenance is not physically possible or economically feasible. Combining this greater flexibility with proven harsh-duty packaging can result in increased efficiencies and improved safety for machines, equipment, and operators.
Customers with a global footprint can utilize local Honeywell experts for application and solution support.
FEATURES:
Wireless design for remote control and monitoring: Radio (license-free, global) WPAN 802.15.4 (IEEE802.15.4), 2.4 GHz, P2P provides reliable, flexible and secure wireless transmission and allows for remote control/monitoring of processes and equipment. Up to 305 m [1000 ft] line-of-sight communication range when used with a Honeywell Limitless™ WPMM Series Wireless Monitor or WDRR Series Receiver (sold separately)
AES 128 bit encryption: Ensures that no unregistered node can successfully insert erroneous signals into a network or decode signals from a network, making the network secure from both eavesdropping and sabotage.
Well-suited for tough environments: IP67 (self-certified), NEMA 4 sealed metal enclosure, with direct or remote mount antenna options, allows for use in most harsh environments. Powder-coated aluminum housing enhances durability and corrosion resistance. cULus, ATEX, IEC Ex certifications
Reconfigurable: Ability to reconfigure multiple WBX Series switches easily allows for adding, subtracting or relocating of Limitless™ WBX Series switches. Eliminates issues with wire connection integrity on moving equipment.
Reduces costs: Can reduce installation and maintenance costs because there are no wires, conduit, strain relief, clips, connectors, connection boxes, etc.
Off-the-shelf batteries: Batteries are available from electrical supply houses and distributors. They are readily available worldwide, thereby eliminating the need for specialized batteries.
Global use: Designed for global availability; variety of Limitless™ inputs with simple and universal PLC connections allows for use in most applications; simplifies design-in process, eliminates tooling costs and reduces manufacturing labor costs.
POTENTIAL APPLICATIONS:
Industrial Automation
Agriculture machines
Door position
Grain diverters or flaps
Hose attachment verification
Material handling
Paint robotics
Pipeline pigs
Pump stroke count
Remote or temporary equipment
Safety shower alarming
Valve position
Transportation