Limitless™ Pressure Sensors - WPS Series
Featured Product from Honeywell Sensing & IoT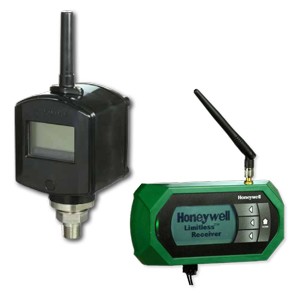 Honeywell is proud to introduce the new Limitless™ Wireless Pressure Sensors - P2P (Point To Point) WPS Series.
Based on proven Honeywell pressure transducer technology and Honeywell's Limitless™ wireless network platform, the WPS Series offers a lower cost option to expensive wireless alternatives with features that a customer's application may not need while offering additional advantages of wireless over the next best alternative (a wired solution).
Like other Honeywell Limitless Wireless solutions, the WPS Series is especially beneficial for remote monitoring applications where wiring or wire maintenance is not physically possible or economically feasible. Combining this greater flexibility with proven harsh-duty packaging can result in increased efficiencies and improved safety for machines, equipment, and operators.
FEATURES:
Wireless design for remote control and monitoring: Radio (license-free, global) WPAN 802.15.4 (IEEE802.15.4), 2.4 GHz, P2P (Point-2-Point) provides reliable, flexible and secure wireless transmission and allows for remote control/monitoring of processes and equipment.
Up to 305 m [1000 ft] line-of-sight communication range when used with a Honeywell Limitless™ Wireless Multi-Protocol Receiver WPMR Series (required option - sold separately)
Gage and absolute pressure measurements: Range: 0 to 50 psi, 200 psi, 500 psi, 1000 psi, 1500 psi, 5000 psi, or 10,000 psi
Well suited for tough environments: IP67 sealed plastic enclosure with 316L Port and Hastelloy® C-276 diaphragm. Operating temperature range -40 °C to 70 °C [-40 °F to 158 °F] Accuracy: Total Error Band ±2.0%
Flexible: Sensor's body can be rotated/swiveled 350° about the port axis so that the LCD can be oriented in the desirable reading position after installation. Variety of direct, remote or built-in antenna options. Can easily reconfigure, allowing adding, subtracting or relocating of sensors.
Reduces costs: Can reduce installation and maintenance costs because there are no wires, conduit, strain relief, clips, connectors, connection boxes, etc.
Low power consumption and easily replaceable batteries: Off the shelf batteries are readily available worldwide from electrical supply houses and distributors.
Global use: Designed for global availability; variety of inputs with Ethernet I/P PLC connections; for easy usage in many applications; simplifies design-in process, eliminates tooling costs and reduces manufacturing labor costs.
Certification: USA: FCC; Canada: IC; European Union: RTTE/ETSI
POTENTIAL APPLICATIONS:
Industrial:

Process monitoring of important pressures
Gauge placement
Liquid level sensing (corrosive or non-corrosive)
Leak detection (detection of pressure drop)
Process pump failure monitoring
Well head monitoring
Irrigation water pressure monitoring
Equipment health monitoring
Tank level monitoring (water or corrosive liquids)
Safety shower and eye wash monitoring