MICRO SWITCH™ Safety Switches CPS Series
Featured Product from Honeywell Sensing & IoT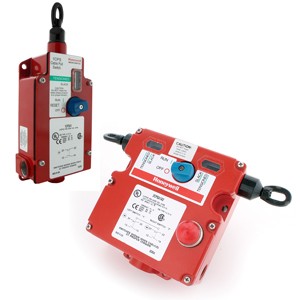 Keeping industrial automation equipment operating safely and efficiently, while meeting all safety standards is a key concern of OEMs and end-users alike. From factory floor to assembly line, Honeywell's MICRO SWITCH™ safety switches deliver both long lasting reliability and safety in a compact, cost-effective package.
Honeywell's CPS Series of Cable Pull Safety Switches are designed to provide a readily accessible emergency stop signal, especially for emergency stop protection for exposed conveyor line.
This is a cost-effective means compared to using multiple emergency stop push buttons.
(Cable Pull Safety Switches are not, however, to be used as a means of personnel safeguarding. They may be used to prevent further injury or damage to equipment when used for emergency stop signaling.)
The internal mechanism latches on both slackened cable (push) and pulled cable. This capability enhances productivity by eliminating nuisance stops due to variations in temperature, stretch of cable over time, and other application variables.
FEATURES:
1CPS single head for single span - for cable runs up to 76 m [250 ft] or shorter
2CPS dual head for dual span - for cable runs of 152 m [500 ft] or shorter
Longer spans are possible depending on temperature change and installation
Direct opening action of NC (normally closed) contacts if emergency occurs
Easy to identify tripped switch in emergency
Highly visible status indicator
Gold-plated contacts available
Rugged, die-cast zinc housing with red body color for easy identification
Easy wiring and installation
Simple set-up
UL listed, CE compliant, SIL 3 capable
Custom options possible - contact Honeywell to discuss your needs
POTENTIAL APPLICATIONS
Long conveyor systems found in warehouses and distribution centers
Conveyor systems having a high amount of vibration
Conveyor systems that experience wide temperature swings
Long conveyor systems where easy through wiring, or highly visible trip status is required
Hose down conditions
Packaging equipment
Assembly lines