PX2 Series Heavy Duty Pressure Transducers
Featured Product from Honeywell Sensing & IoT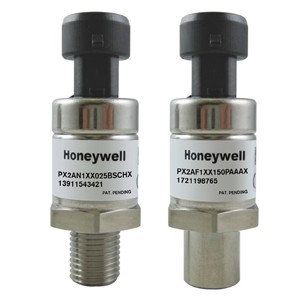 Honeywell is pleased to announce new pressure ranges for its PX2 Series Heavy Duty Pressure Transducers -from 15psi up to 667 psi, 1 Bar up to 46 Bar, or 100kPa up to 4.6 MPa, ideal to support both high and low pressure requirements of most HVAC/R cooling circuits as well as a variety of other higher pressure industrial applications.
Honeywell's PX2 Series are highly configurable pressure transducers using piezoresistive sensing technology with ASIC (Application Specific Integrated Circuit) signal conditioning in a stainless steel housing that is compatible with a variety of moderately harsh media.
These transducers measure absolute or sealed gage pressure. The absolute versions have an internal vacuum reference and an output value proportional to absolute pressure. The sealed gage versions have an internal pressure reference of one atmosphere at sea level.
Compatible with a variety of harsh media including brake fluid, refrigerants, engine oil, tap water, hydraulic fluids, and compressed air. The wide operating temperature range, up to IP69K protection, and CE compliance allow compatibility for reliable performance in tough environments.
KEY FEATURES:
Pressure ranges available: 1 bar to 46 bar; 100 kPa to 4.6 MPa; 15 psi to 667 psi
Cost effective: Optimizes system performance at a competitive cost
Highly configurable: Over 15,000 standard configurations
Extensive application expertise and global support: Knowledgeable application engineers are available to answer customers' specific design questions
Wide selection of options: Numerous standard or custom connectors, ports, pressure ranges and types, and output options
Short lead time: Configurability allows for a quick response to prototypes
Fully calibrated and compensated for transducer offset, sensitivity, temperature effects and non-linearity using an on-board ASIC.
Wide Operating Temperature Range with Small Total Error Band (TEB): Honeywell specifies TEB, the most comprehensive, clear, and meaningful measurement that provides the transducer's true accuracy over a compensated temperature range of -40 °C to 125 °C [-40 °F to 257 °F]
Fast response time [<2 ms]: Helps maximize system performance
Long life: A minimum 10 million cycles to operating pressure provides long life in the application
Energy efficient: AC a nd AD output transfer functions offer a 3.3 V ratiometric output with a <7 ms turn on time, enabling the PX2 Series to be used when energy efficiency is required
Environmentally tough: Compatibility with a wide variety of harsh media, up to IP69K ingress protection, and 100 V/m radiated immunity allow for use in tough environments
Shock and vibration resistant: Mechanical shock rating [100 G per MIL-STD-202F, Method 213B, Cond. F] and vibration rating [20 G sweep, 10 Hz to 2000 Hz] increase flexibility of use within the application
EMC protection: Provides confidence that the transducer will not be damaged by environmental electromagnetic interference; radiated immunity protection up to 100 V/m (ISO11452-2) is available
POTENTIAL APPLICATIONS:
HVAC/R: May be used to monitor system performance for proper environmental control of:
Compressor inlet and outlet pressure
Rooftop chillers
Compressor rack rooms
Refrigerant recovery systems
Compressor oil pressure
Air Compressors: May be used to monitor compressor performance and efficiency:
Compressor inlet and outlet pressure
Cooling water inlet and outlet pressure
Compressor oil pressure
Filter pressure drop
Industrial / General: May be used to monitor:
Emissions monitoring
Factory automation
Flow and level
Fluid power
Foam dispensing
Injection molding knock-out valves
Lasers
Laminating equipment
Packaging equipment
Pneumatics
Pumps
Solar energy
Sprayers
System pressure
Valves