Honeywell Model 1103 Low Capacity Torque Sensor
Product Announcement from Honeywell Test & Measurement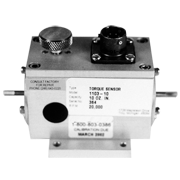 Model 1103 Low Capacity Torque Sensor, 10 oz-in to 20 oz-in, 0.05 % Non-linearity and Hysteresis, Lower Cost for General "In-line" Applications. A line of low capacity rotary slip ring torque sensors primarily designed for fractional horsepower motor test applications. Instrumental in monitoring start up, running, and stall torque levels during development and qualification of these motors. Capacity range from 10 in-oz to 20 in-oz for small shaft mounting configurations.
Want More Information? Need a Copy of our Catalog?
Visit us online to view more information on Honeywell's broad portfolio of test and measurement sensors including:
Need a print copy of our catalog? Order one now!
Not sure of what you need? Try our online step by step Find a Product feature which will help guide you to the right model for your application.
Need something special for your particular application? Honeywell can provide modified and custom solutions for many different applications and environments. Give us a call at 1-800-848-6564 or +1-614-850-5000, or contact us by email to discuss your requirements.
---