Honeywell Model 31 Miniature Load Cell
Product Announcement from Honeywell Test & Measurement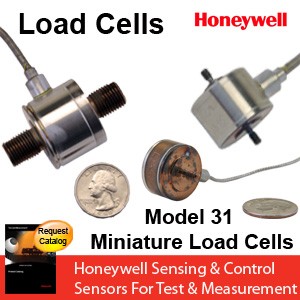 Honeywell's Model 31 miniature load cells measure both tension and compression load forces of 50 grams up to 10,000 lbs.
Our highest accuracy miniature sized load cell (±0.25% - ±0.30 full scale), these rugged, all-welded stainless steel miniature load cells are designed to eliminate or reduce to a minimum the effects of off-axis loads. The internal construction assures excellent long-term stability for ranges 1000 grams and above.
Features:
Range:

50 g to 250 lb
500 lb to 10,000 lbs

Accuracy

±0.25 % full scale (50 g to 250 lb)
±0.30 % full scale (500 lb to 10,000 lb)

Miniature size to fit into tight spaces
All-welded stainless steel,
Can be modified for underwater applications
mV/V output
Potential Applications:
Cable tension
Electromechanical parts testing
Medical control systems
Pharmaceutical process or product control
Semiconductor/electronics testing
Aerospace test applications
More Information / Datasheet:
See All Honeywell Test and Measurement Products Online:
Visit us online to view more information on Honeywell's broad portfolio of test and measurement sensors including:
Need a print copy of our catalog? Order one now!
---