Model FP2000 Configurable Pressure Transducer
Product Announcement from Honeywell Test & Measurement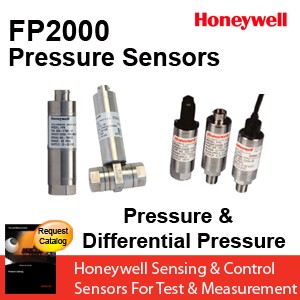 Honeywell's Model FP2000 series is an extremely flexible and configurable pressure or differential pressure transducer which allows the customer to select the configuration which best fits the needs of the application. The FP-2000 is silicon based and manufactured out of rugged Ha C276/316 Stainless Steel wetted material.
Choose from multiple accuracies, outputs, pressure ports, electrical terminations, and pressure ranges. The FP2000 is available with gage, absolute, barometric, or vacuum reference and, best of all, is available for quick delivery as part of our Quick Ship program.
Potential Applications:
Test stands (engine testing, etc.)
Fluid pressures (clutch, transmission, engine oil, fuel, coolant)
Manifold pressures
Leak detection and analysis
Electronic barometers
Product fatigue testing
Spring testing / shock absorber testing
Electrohydraulic shaker systems
Emissions pressure / intake airflow / pressure
Airbag system fill pressure
Fluid pump pressure
Hydraulic line pressure
Paint spray gun pressure
Visit us online to view more information on Honeywell's broad portfolio of test and measurement sensors including:
Download a copy of our new pressure sensor range guide.
Need something special? We can provide modified and custom solutions for many different types of applications and environments. Give us a call at 1-800-848-6564 or +1-614-850-5000, or visit us online
---