Model LL-V Vertical Entry Liquid Level Sensor
Featured Product from Honeywell Test & Measurement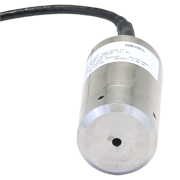 The Model LL-V Liquid Level Sensor is manufactured out of 17-4 PH Stainless Steel and is designed for vertical entry into a tank or stilling well for complete submersion in the fluid. The all-welded stainless steel housing and pressure sensing diaphragm provides corrosion resistance to most fluids. The electrical cable exits through a 1/2-14 NPT threaded conduit fitting which allows the attachment of a variety of tubing or flexible conduit. The electrical cable is vulcanized to a welded on stainless steel ferrel. The four conductor electrical cable has an atmospheric vent tube inside the cable jacket and is attached to the "true gage" all-welded chamber inside the sensor to provide an atmospheric zero reference.
Want More Information? Need a Copy of our Catalog?
Visit us online to view more information on Honeywell's broad portfolio of test and measurement sensors including:
Need a print copy of our catalog? Order one now!
Not sure of what you need? Try our online step by step Find A Product feature which will help guide you to the right model for your application.
Need something special for your particular application? Honeywell can provide modified and custom solutions for many different applications and environments. Give us a call at 1-800-848-6564 or +1-614-850-5000, or contact us by email to discuss your requirements.