Paint Circulation Equipment
Product Announcement from Hosco Finishing System Components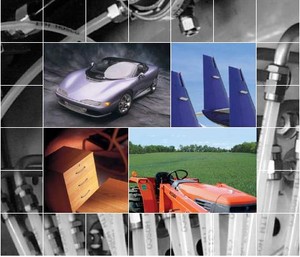 Management, Sales, Engineering And Manufacturing. All In One Location.
HOSCO...the only finishing equipment manufacturer having a single, well defined focus...producing the world's finest stainless steel components, fittings and systems for advanced paint and coating delivery. To deliver cleaner paint. To deliver higher quality finishes and lower repair and warranty costs. Through four decades of finish application experience, HOSCO systems are recognized as the standard - worldwide - for excellence in our product, and your finish.HOSCO engineers and project managers employ CAD workstations to develop application solutions tor finishing needs.
Technologies & Beyond
HOSCO set new standards with innovative, unique designs like our smooth-bore, cavity-free components. As the only supplier of both inch and true metric size fittings, HOSCO offers standardized compatibility in the spray booth, plant-wide, globally. Tackling any finish challenge, we've developed the technological solutions, in partnership with our customers, that have enhanced sol vent-based finish applications, and have paved the way for implementing water-borne finishes, clear coats, and two-component urethanes. But our success and ultimately, your satisfaction, are measured by more than just product and performance.HOSCO cellular production allows Quick response to customer reouirements, whether to complete a rush shipment or build custom parts.
It is a result of our continuing commitment to provide the necessary support services, prior to and long after the order, that give you the assurance of maximum productivity and optimum quality. Our technical sales and engineering staff have the expertise in the application process as well as equipment specifications-to make decisive recommendations and offer alternatives that will enhance your spray booth or assembly line operations.
The HOSCO engineering department is equipped with state-of-the-art design and manufacturing workstations. This capability allows us to quickly integrate design modifications into our standard line of products that will improve performance, as well as custom match component designs for special application needs. By utilizing a fully implemented production line simplification program and creating an efficient work cell environment, we're able to respond rapidly to these needs, including the manufacture of prototype pans and systems.
Finishes that are boundless
Around your plant, around the world, HOSCO finishing components, circulation systems, and support services are at the forefront of paint and coatings application productivity and quality...solutions up to any finishing task.Hosco's CNC turning center for prototyping and machining custom fittings.
From our recent expansion into a modern, larger facility, to our worldwide distributor network, and the combined resources of ITW affiliated companies, HOSCO stands ready to deliver. With one of the largest product lines available, we're able to custom build a system to virtually any list of specifications using standard options, or develop new configurations perfectly tuned to your application.
HOSCO stands ready with the products, service and expertise that deliver clean, contaminate-free paints and coatings... productivity and quality from paint rooms to the spray guns.
---