ELECTRIC HEATING ELEMENTS FOR OVER 60 YEARS!!
Product Announcement from Backer Hotwatt Inc.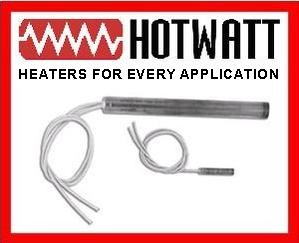 Hotwatt manufactures electric heating elements including Superwatt and Standard Cartridge, Air Process, Immersion, Strip and Finned Strip, Tubular and Finned Tubular, Band, Foil, Flexible Glasrope, Crankcase and Ceramic heaters. We are dedicated to the design and manufacturing of resistance heating elements for a variety of OEM, industrial, commercial and military applications.
Hotwatt can provide you with heating units manufactured to your specifications to accommodate any heating problem. Hotwatt stocks all material for the different diameter units listed on this web page. Your order, specifying wattage, voltage, diameter, length, and lead type is readily and quickly fabricated from their inventory. In addition, many standard sizes are available from In-Stock for immediate delivery.
Some of our most popular products:
Visit our website to learn more.
Click here for Technical Information
We can be reached by e-mail at sales@hotwatt.com
---