Digital Modules / Meters DMC-30 Series
Product Announcement from Hoyt Electrical Instrument Works, Inc.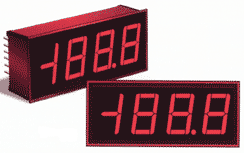 PREVIOUSLY AVAILABLE JUST AS A MODULE - NOW A DIGITAL METER!
The DMC-30PC Series is a broad line of self-contained , fully operational, modules with large, easy to read LED displays. The 0.56" (14.2mm) high LED's are available in red with optional colors, orange, amber, yellow, green, aqua and blue. A high intensity version of the red display is optional as are low power versions of the red, orange and green displays.
The small size (2.17" x 0.92" x 0.56") of DMS-30PC meters is achieved by integration their display drivers, reference circuit and A/D converter into a single, epoxy encapsulated assembly, The device's 12 pin component like, DIP package is both vibration and moisture proof. Each package incorporates a built in color filter a bezel and is easily mounted in panels or in PC cards.
These meters are available of four different input voltage ranges (±200mV, ±2V, ±20V and ±200V). Input impedance is 1,000 meg ohms for the ±200Mv and ±2V inputs and 1 Meg ohm for the ±20V and ±200V inputs. CMRR for all devices is 86dB, and inputs are over voltage protected to ±250V.
Each meter incorporates an extremely stable, double-regulated reference and is fully calibrated prior to potting. We guarantee outstanding initial accuracy (±1 count) and excellent stability (±0.15 counts/°C). All models operate from a single +5V supply, and the low-power models draw as little as 10mA (50mW total power). A DISPLAY TEST function as standard on each device.
For popular applications (4-20mA, rms to dc conversions, ac line power, J and K thermocouples, etc), the DMC includes a complete line of optional "plug-on" application boards that conveniently convert your meter into an application specific instrument.
0-200 AC Ammeters
0-200 DC Ammeter
0-200 DC Voltmeters
0-300 AC Voltmeters
Frequency, 50-60 Hertz
DC Volt 12-24 Battery Operated
8-40 Volts DC Auxiliary Power
Completely Isolated
Terminal Block Connections
Field Adjustable
Features
Large (0.56" / 14.2mm) LED
7 LED colors available
Low power LED's optional
Epoxy encapsulated, 12 pin DIP with built in color filter and bezel
Miniature Size: 2.17" x 0.92" x 0.56 55mm x 23mm x 14mm
Panel or pc-board mountable
4 differential input voltage ranges
Auto calibration, ± count accuracy
User selectable decimal point placement
0 to +60°C temperature range
Numerous "plug-on" application boards
Low cost
Single +5V supply (60mW for low power models)
---