ELRV-30 Series - True RMS Earth Leak Relays
Product Announcement from Hoyt Electrical Instrument Works, Inc.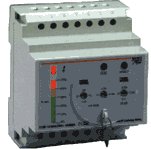 Designed to monitor and detect true RMS, earth fault currents (up to 30A) in conjunction with a separate toroid.
Fast response time of <25mS1 to fault currents that are 5 x greater than the set trip current.
Digital LED Display shows measured leakage current, various user settings and diagnostics.
Microprocessor controlled with internal monitoring (self-checking)
Sensitivity (IDn) and time delay (Dt) adjustable using simple 2-button operation.
"Display" push button allows user to view settings without needing to open the tamperproof cover. The "last recorded" peak.
trip current can also be recalled using the same push button.
Single button operation for "Test / Reset" and connection facility for remote "Test" and "Reset" push buttons.
Connection for remote lamp facility warning user prior to a trip condition (level adjustable by user).
Toroid open and short circuit detection (unit forced to trip during open circuit condition).
2 x SPDT relay output 8A. LED indication of user settings / fault condition after unit has tripped.
---