HOYT AC Frequency Meters
Product Announcement from Hoyt Electrical Instrument Works, Inc.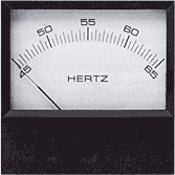 The HOYT AC Frequency meters available in 2-1/2", 3-1/2" and 4-1/2" models utilize the high torque bar-ring pivot and jewel mechanism with a solid-state frequency network that yields ±2% accuracy of the span.
The unit was designed to be less susceptible to errors caused by waveform distortion. All frequency meters are self-contained with zero and span adjustments accessible for final adjustments.
AC Frequency meters are designed to match HOYT Ammeters and Voltmeters. Seven different case styles are available in: Acrylic, Phenolic, Polystyrene or high impact Polycarbonate. Case styles are available for surface, bezel or window mounting.
NOTE:Special ranges and voltages available upon request. Barrel depth is Approx. 1-1/2" longer than standard meters.
---