Worm Gear Replacement Drive - Energy Savings
Product Announcement from Hub City, Inc.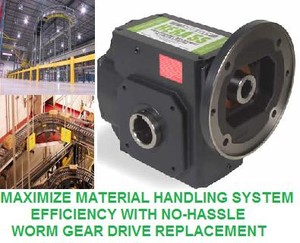 Do you have multiple speed reducers on your lines? Is your equipment is running continuous duty? Then it's time to replace out-dated, inefficient gearing technology with the Hub City HERA™ Quickly improve operating efficiency with this easy bolt-in, powerful GREEN solution!
HERA™ High-Efficiency Right Angle delivers huge benefits
90% Efficiency (all ratios)
Up to 40% Energy Savings
2 x More Torque Capacity
Smaller Motor Requirements
Longer Gearbox Life
Rapid Payback
Less Inventory
Ideal in material handling, packaging and process systems HERA™ is dimensionally interchangeable with up to 4 sizes of worm drives & up to 40% more efficient than standard worm gearing. No design changes required
HERA™no-hassle worm gear drive replacement is made in the USA and has a 3 year warranty.
Ideal for retro fit installations or OEM applications HERA™ offers Output Torque Rating of 2,600 in-lb ( all ratios up to 1800 rpm) in a compact unit with Ratios 7:1 to 60:1 (non-integer).
Use this Efficiency calculator to calculate savings based on known gearbox output torque and known motor HP And this works in 3 different modes like Advanced, Basic and simple calculation based on the requirement.
For full details of features, specs and drawings visit our website via the links on this page
DOWNLOAD CATALOG DIMENSIONS and RATINGS
---