Plastic Universal Joints & Teleshafts
Product Announcement from Huco Dynatork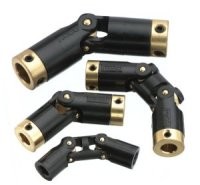 Universal joint couplings use a mechanical pivotal action controlled by radial bearings. The Huco-Pol range is injection moulded in acetal with controlled preload to eliminate backlash. This type of coupling has a large offset capacity along with good torsional damping and water resistance. They are also lubrication free. The double jointed versions include a cardan which enables them to also handle radial and angular misalignment.
The Huco-Pol range is suitable for use in light duty applications. Their low mass and corrosion resistance make them ideal for applications where conventional steel joints would be under-utilised. They are often used in food, textile, paper handling and packaging environments.
Features:
Backlash-free up to 108 turns
Low mass
Low inertia
Corrosion resistant
Electrically isolating
No maintenance
Huco-Pol is a range of light duty, backlash-free universal joints and teleshafts manufactured of acetal and non-ferrous metals.
They are suitable for intermittent applications where low mass, corrosion resistance and electrical isolation are desirable.
Huco-Pol joints and teleshafts have only a fraction of the torque capability of steel joints and are not intended to substitute for these in the normal way.
Huco-Pols are used in business machines, food processing plants, laboratory equipment and electro-medical apparatus among others.
Alternative polymers are available for high temperature operation.
Please click on the links to the right or contact Huco Dynatork today!
---