New Hy-Safe Sky Anchor
Product Announcement from Hy-Safe Technology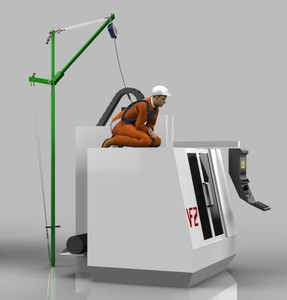 Hy-Safe Technology is pleased to announce the addition of the Sky Anchor to our wide array of fall protection solutions. The Sky Anchor is ideal for work on top of machinery where other fall protection solutions are difficult to install due to limited overhead space and/or structure design. The newly released Sky Anchor combines simplicity and advanced technology allowing workers to safely access difficult to reach spots. The unique system allows fall arrest safety along the entire length of machine units.
The portable Sky Anchor is adjustable in height up to 20 feet when positioned over a core mount sleeve allowing the system to be used for various machines with different heights. It features a folding boom to extend position over the shop area. An optional custom cart was designed to transport the unit and assist in lowering and raising out of a core mounted receiver.
Hy-Safe has responded to customer needs by developing the Sky Anchor- bringing an innovative solution to a common challenge. Contact us for more information!
---