Check Presure with HYDAC Accumulator Charging Kit
Featured Product from HydraCheck Inc.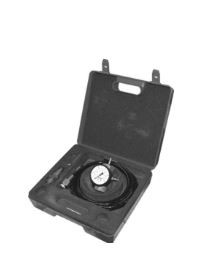 To maintain system performance, it is recommended that the gas precharge pressure in your accumulators be checked regularly. A loss in the gas precharge pressure will cause a drop in the system efficiency and could cause damage to the accumulator bladder, diaphragm, or piston.
These charging and gauging units allow hydro-pneumatic accumulators to be charged with dry nitrogen. For this purpose, a charging and gauging unit is connected to a commercially available nitrogen bottle via a flexible charging hose (8 feet/2.44m).
These units allow maintenance personnel to check the current gas precharge pressure of an accumulator and also incorporate a gauge and check valve in the charging connection, and a manual bleed valve with a T-handle. Operating and installation instructions are included with each charging kit.
The FPK250 kit also has Adapters for different connections.