DHT 1 Bi-Directional Digital Hydraulic Testers
Featured Product from HydraCheck Inc.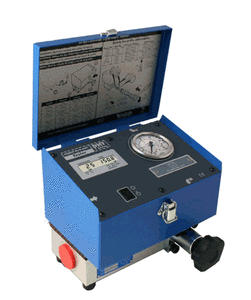 The DHT 1 Series Digital Hydraulic Testers accurately measure flow, pressure, and temperature. The digital tester is designed to conveniently check the performance of hydraulic pumps, motors, valves, and hydrostatic transmissions.

The unit is easy to use, has simplified controls, and can quickly verify components settings and/or pinpoint faults in your hydraulic system which will reduce downtime and help in preventive maintenance.

The tester comprises a turbine flow meter with loading valve and a large easy-to-read digital display which indicates both flow and temperature. The unit also has a glycerine-filled gauge that displays both PSI and bar.
Features:

Accurate measurement of flow, pressure, and temperature.
Built-in loading valve with "Interpass"™ safety system.
Bi-directional for unrestricted connection and simplified testing.
Portable and lightweight with angled case for easier viewing and cleaning.
Automatic "Power Off" feature.
Pressures up to 7000 PSI (482 bar).
Flow Accuracy: ± 1% full flow.
Pressure Accuracy: ± 1.6% of full scale.
Readout: 8 digit LCD with 8 mm high characters.
HydraCheck was established in 1990 when Rory McLaren realized
there was insufficient maintenance and testing equipment for hydraulic systems.
HydraCheck's benchmark is to be the most reliable source for all maintenance and
testing needs. Furthermore, we strive to provide the best products available on
the market. HydraCheck has progressively developed into the leading maintenance
and testing equipment company and continues to expand inventory and implement
elite customer service. Our objective is to provide the diagnostic
instrumentation that maintenance technicians need in order to do their job
safely and effectively.