Gauge Port Adapter with M16X2 Test Point
Featured Product from HydraCheck Inc.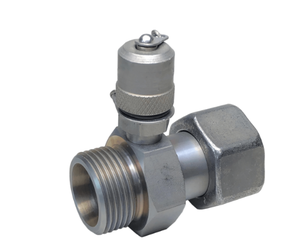 Hydracheck offers a new DKO male x female swivel (DKO 24° sealing cone with O-Ring) gauge port adapter with an M16x2 (Minimess) test point. Gauge port adapters offer a simple and easy method of adding test points into a hydraulic system. Ideal for solder-free screw-in pipe connections according to DIN 2353.
Ranging in sizes from M12x1.5 (6L) to M52x2 (42L) metric threads, available in Light (L) or Heavy (S) series.
Suitable for OEM build or retro-fitting to existing systems.
Click here to view product details.