Kit of SAE Code 61, 62 & CAT-Style Hydraulic Flange Locks
Featured Product from HydraCheck Inc.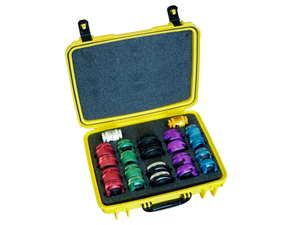 Hydracheck's FlangeLock Kit keeps all of the your FlangeLock tools safe and secure in a compact, easy to carry package. The other advantage to the FlangeLock kit is having all of the sizes right there at your finger tips.
The FlangeLock Tool allows for the simple sealing of open SAE Code 61, 62 & CAT-Style hydraulic flanges without tools. Constructed out of lightweight high tensile strength T6511 anodized aluminium. Easy on, easy off. Offers a leak proof solution to hydraulic system and environmental cleanliness.