Non-Contact/Contact Laser Tachometers
Featured Product from HydraCheck Inc.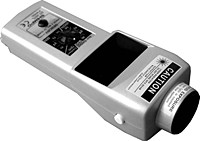 The HC-DT205L and HC-DT207L are low power consumption, battery-operated, hand-held, microprocessor-controlled, non-contact/contact type tachometers that utilize a laser beam for movement detection.

In the non-contact mode, a laser beam measures RPM when directed towards a shaft (or any other rotating mechanism). The included 200L adaptor allows for contact
measurement via a rubber tip cone attachment or the included 6" (152mm) master
linear wheel.

Standard Accessories:
Reflective tape
2 cone adapters
1 funnel adapter
1 3-1/2" extension shaft
NIST certificate
Carrying case with foam
1 master wheel (6" cir)
HydraCheck was established in 1990 when Rory McLaren realized there was insufficient maintenance and testing equipment for hydraulic systems. HydraCheck's benchmark is to be the most reliable source for all maintenance and testing needs. Furthermore, we strive to provide the best products available on the market. HydraCheck has progressively developed into the leading maintenance and testing equipment company and continues to expand inventory and implement elite customer service. Our objective is to provide the diagnostic instrumentation that maintenance technicians need in order to do their job safely and effectively.