Are your cut parts within spec??
Featured Product from Hymark/Kentucky Gauge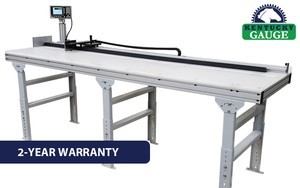 The Kentucky Gauge MMT offers unmatched dimensional measuring accuracy. With over 100 points of segmented error compensation, near-perfect accuracy at lengths up to 20ft and beyond can be achieved. Multiaxis versions available!
The MMT measuring table is designed to simplify the quality control process of measuring overall part dimensions. The MMT functions similarly to digital calipers, but features a more robust construction. Additionally, the integrated table prevents the operator from needing to hold the part or the measuring tool, which can often be cumbersome with larger parts. Utilizing our high-resolution, non-contact linear encoder and integrated segmented error compensation, we can acheive unmatched accuracy and reliability.
Key Features
1-, 2-, and 3-axis measuring available
5-micron wear-free linear encoder (0.0002")
Full color, swivel mount TFT digital readout
100+ points of segmented error compensation available for near-perfect measuring accuracy
Integrated SPC without the need for any specialized software
Follow us on social media to stay up-to-date on all of the latest product offers, product news, and specials!