Automate Your PMI Saw with a Kentucky Gauge Pusher
Featured Product from Hymark/Kentucky Gauge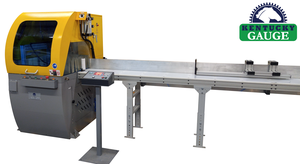 The Kentucky Gauge PD100 saves time and money with quick and precise positioning. Equipped with a rack and pinion drive and a high-accuracy, non-contact linear encoder, the PD100 ensures the industry's most rugged, long lasting and accurate automatic gauging solution is ready for integration with any new or existing cutting, drilling, punching, shearing, bending or welding application.
Check out our photo gallery to see product applications. Our systems work with any saw type and all saw manufacturers.
Key Features
Programmable position controller with free-standing control stand
Non-contact linear encoder for direct and precise measuring
DC servo motor with integrated brake
Precision rack and pinion drive
Available in any length - No limitations
Hinged arm lift for material pass through
Linear error compensation - 100 points
Input and output signals for full or semi-auto operation in conjuction with machinery
Left or right side mounting
Customized to fit application requirements
Specifications
Resolution:

0.001", 0.01mm

Encoder accuracy:

± 0.0005"

PD100 repeat-accuracy:

0.001" / 0.01mm

Travel speed:

20"/sec standard

Program memory:

3000 lines

Arm length:

36", adjustable

Steel faceplate:

3" x 5" standard

Power supply:

110 VAC, 15 amp

Total length:

24"

Measuring range:

Unlimited
***Customized versions available upon request.***
2-year Warranty
We're completely confident in our machines. So confident that our industry-leading 2-year warranty comes standard on our machines.
Customized Solutions
You give us your requirements and we'll modify any of our machines to work exactly how you need them to.

Reliable Hardware
Our rugged rack and pinion drive and wear-free linear encoders ensure you can rely on a Kentucky Gauge to withstand day-to-day abuse while maintaining high-accuracy measurements
STAY CONNECTED WITH US:
FACEBOOK
TWITTER
INSTAGRAM
LINKEDIN
YOUTUBE
Hymark is your best source for Motion Control Products, Length Measuring Gauges, Machine Tool Equipment and Customized Machinery.
Phone:(270) 683-3500