Built-to-Order Custom Drilling Systems
Featured Product from Hymark/Kentucky Gauge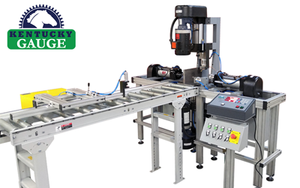 Ideal for aluminum, steel and composites, tubular and flat bar materials, the Kentucky Gauge KDP series of drilling systems will increase your efficiency in producing high quality parts in an accurate and lean manner. With varying horse power options and two speed stroke control, our customized drilling solutions can be provided to meet your specific requirements.
Key Features
Programmable position controller with free-standing control stand
Non-contact linear encoder for direct and precise measuring
DC servo motor with integrated brake
Precision rack and pinion drive
Available in any length - No limitations
Repeatability of +/-0.001"
Pusher or Stop operation, Semi or Fully automatic
Customized to fit application requirements
Video Application Examples

Turnkey Drilling and Tapping Solution
Feed System Retrofit onto Existing Drill
Drilling Large Diameter Pipes (20"+ OD)
Automatic Multi-Axis Drilling System
Follow us on social media to stay up-to-date on all of the latest product offers, product news, and specials!