Completely Eliminate Miscuts
Featured Product from Hymark/Kentucky Gauge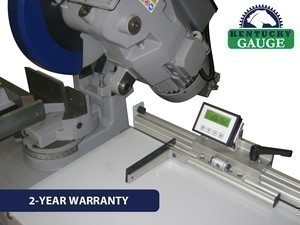 The MD10D manual stop from Kentucky Gauge offers a cost-effective way to boost productivity and increase positioning accuracy. Equipped with an IP67 rated linear encoder and digital readout that boasts resolutions of 0.001" / 0.01mm, you can avoid miscuts while reducing material waste.
Contact us for a quote to find out just how quickly the MD10D will pay for itself!
Key Features
Guide rail with t-slots for easy retrofit
Non-contact linear encoder for direct and precise measuring
Easy-to-read LCD digital readout with inch, mm and fractional display
Roto-lock brake system for secure holding force
High-performance slide bearings for smooth positioning
Available in any length - No limitations
Hinged arm lift for material pass through
Left or right side mounting
Customized to fit application requirements
Specifications
Resolution: 0.001", 0.01mm, 1/64"
Repeat-accuracy: 0.001" / 0.01mm
Steel faceplate: 1.5" x 3" standard
Brake force: 800N
Operating temperature: 0°C - 50°C (32°F -122°F)
Protection: Scale: IP67; Display: IP60
Power supply: 'C' battery
Total length: +10"
Measuring range: Unlimited
***Customized versions available upon request.***
2-year Warranty
We're completely confident in our machines. So confident that our industry-leading 2-year warranty comes standard on our machines.

Customized Solutions
You give us your requirements and we'll modify any of our machines to work exactly how you need them to.

Reliable Hardware
Our rugged rack and pinion drive and wear-free linear encoders ensure you can rely on a Kentucky Gauge to withstand day-to-day abuse while maintaining high-accuracy measurements