Customizable Measuring Gauges
Featured Product from Hymark/Kentucky Gauge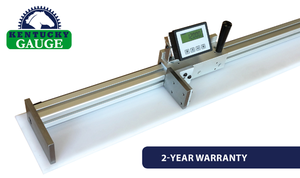 The Kentucky Gauge MMP Digital Length Gauge offers a rugged and LOW COST alternative to delicate calipers that often get lost or damaged. Not only does the MMP boast largers anvils than calipers, it is also available in longer lengths and offers an optional non-marring surface for the material to rest while being measured. Thus, eliminating errors from the tool being misaligned with the part.
Click here to view the MMP datasheet

**Now offering wired and wireless data export direcly into Excel - Click here to view a short video demo of our wired SPC solution.

Specifications
• Light weight and portable design
• Rugged guide rail with T-slots for easy mounting
• Precision and maintenance free moving carriage with handle
• High-performance slide bearings for smooth and easy positioning
• Battery powered LCD readout with inch/metric and fractional display
• Keypad presets for zero and reference with inch/metric conversion
• High accuracy IP67 rated linear encoder for direct measuring
• Precision ground steel contact plates
• Smooth and wear-free measuring surface

Standard Features
• Resolution: 0.001in or 1/64 fractional or 0.01mm
• Repeat Accuracy: 0.001in (0.01mm)
• Total system length: measuring length + 8in
• Measuring surface: 3-1/2in wide, others available upon request
• Battery consumption: approximately 12 months (2 x 1.5V)
• Backlit display: 6 digits, 4 keys (48mm x 72mm)
• Temperature range: -20°C to 80°C ( -4°F to 176°F)

Options
• Larger contact plates (custom sizes available)
• Interface options available
• Data capture solutions - export readings directly into Excel


***Customized versions available upon request.***

Hymark is your best source for Motion Control Products, Length Measuring Gauges, Machine Tool Equipment and Customized Machinery.
Hymark / Kentucky Gauge
427 Bark Cove
Owensboro, KY 42303
USA
Phone:(270) 683-3500