Customized Drilling and Tapping Solutions
Featured Product from Hymark/Kentucky Gauge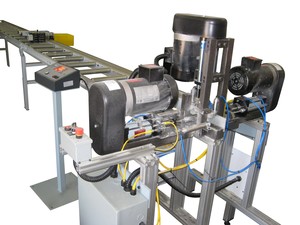 Kentucky Gauge specializes in custom, built-to-order drilling equipment for ferrous and non-ferrous metals, plastics, fiberglass parts, and lumber.
Check out our photo gallery for example builds.
Whether you're looking for a custom drill station for drilling multiple holes at once or an automated part feeder for drilling repetitive hole patterns in long parts, our experienced team will work with you directly to fabricate a turnkey system to maximize your drilling operations.

Self-feeding drill heads are used to automate the drilling process while allowing operators to focus on additional tasks.

Multiple spindle heads are available to maximize efficiency by drilling equally spaced hole patterns at once with only one drill.

Automatic self-reversing tapping heads can be used with drill and tap combination bits to drill and tap a hole simultaneously.

Peck drilling is also available for deep hole drilling processes.

With thrust forces up to 1500 lbs. on standard shop air and automatic strokes up to 6" long, we can produce turnkey solutions for any industry and any material type.
2-year Warranty
We're completely confident in our machines. So confident that our industry-leading 2-year warranty comes standard on our machines.
Customized Solutions
You give us your requirements and we'll modify any of our machines to work exactly how you need them to.

Reliable Hardware
Our rugged rack and pinion drive and wear-free linear encoders ensure you can rely on a Kentucky Gauge to withstand day-to-day abuse while maintaining high-accuracy measurements
STAY CONNECTED WITH US:
FACEBOOK
TWITTER
INSTAGRAM
LINKEDIN
YOUTUBE
Hymark is your best source for Motion Control Products, Length Measuring Gauges, Machine Tool Equipment and Customized Machinery.
Phone:(270) 683-3500