More Accurate and Reliable than Calipers
Featured Product from Hymark/Kentucky Gauge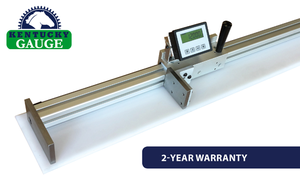 The Kentucky Gauge MMP Digital Length Gauge offers a rugged alternative to delicate calipers that often get lost or damaged. Not only does the MMP boast larger anvils than calipers, it is also available in longer lengths and offers an optional non-marring surface for the material to rest while being measured. Thus, eliminating errors from the tool being misaligned with the surface of the part.
Wired and Wireless SPC Available!!
Key Features
Easy-to-read LCD digital readout
Inch, mm and fractional display with direct push-button conversion
Calibration certificate included
RS232 interface (optional)
Adjustable parameters for presets, datum and offsets
Precision ground tool steel anvils
Customizable to fit application requirements
Field replaceable components
Can be mounted to a dedicated table top or used with our polypropylene base for portability
Optional push-to-send SPC output
Specifications
Resolution: 0.001", 0.01mm, 1/64"
Repeat-accuracy: 0.001" / 0.01mm
Anvil size: 3.375" x 2.50" standard
Operating temperature: 0°C - 50°C (32°F -122°F)
Protection: Scale: IP67; Display: IP60
Power supply: 'C' battery
Measuring technology: Magneto-resistive
Measuring range: Unlimited
***Customized versions available upon request.***
2-year Warranty
We're completely confident in our machines. So confident that our industry-leading 2-year warranty comes standard on our machines.
Customized Solutions
You give us your requirements and we'll modify any of our machines to work exactly how you need them to.
Reliable Hardware
Our rugged rack and pinion drive and wear-free linear encoders ensure you can rely on a Kentucky Gauge to withstand day-to-day abuse while maintaining high-accuracy measurements
Hymark is your best source for Motion Control Products, Length Measuring Gauges, Machine Tool Equipment and Customized Machinery.
Hymark LTD
427 Bark Cove
Owensboro, KY 42303
USA
Phone:(270) 683-3500