Precise Clutch Brake Motors (Quick Delivery)
Featured Product from Hymark/Kentucky Gauge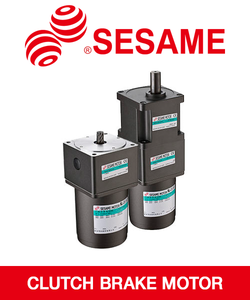 E
quipped with an internal clutch and brake mechanism, our ultra precise clutch brake motors incorporate an internal clutch and brake mechanism that makes it ideal for applications involving frequent Start/Stop operation, precise positioning, inch-movement, indexing, jogging and incremental feeding. Induction and variable speed options available.
Key Features
Suitable for highly frequent Start/ Stop olperation

High precision, highly responsive clutch and brake

Precise Positioning

When the brake is in use, the clutch will separate the link from the brake, so there are no overruns, making positioning precise and accurate.

Simple Design

Adaptable, compact and space-saving design - making it simple to install
Insulating Resistance: Tested value at 10MΩ and above
HiPot Resistance: No damages caused after 1kV at 60Hz
Rated Power: 40/60/90 W
Rated Speeds: 1250-1650 RPM (90-1700 RPM with Variable Speed option)
Typical Product Applications:
Machine Tool Accessories

Cutting Equipment

Bar Feeder

Conveyor Equipment

Packaging Machinery

Food Processing Machinery

Printing Machine

Agricultural Machinery

Medical Equipment
Follow us on social media to stay up-to-date on all of the latest product offers, product news, and specials!