Cutting thin material with Powermax air plasma
Featured Product from Hypertherm, Inc.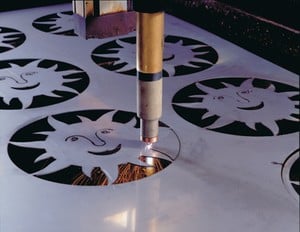 Cutting thin metal has its challenges - warping, large kerf widths, inability to cut fine features. If you're cutting gauge material with a Powermax® air plasma, you need to be using FineCut™ consumables.
FineCut consumables are ideal for cutting intricate, fine-featured shapes out of thin sheet metal and provide squarer edges, tighter tolerances and a narrower kerf on thin metals than regular Powermax consumables.
FineCut works with both hand and machine mounted Powermax torches. If hand cutting, their use is straightforward. Install the consumables and start cutting. The FineCut process is also easy when cutting with a machine torch, however the capabilities of the CNC machine can clearly impact outcomes.