Goodbye Guesswork, Hello Powermax SYNC
Featured Product from Hypertherm, Inc.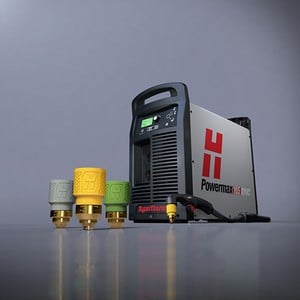 The next generation of Powermax65®/85/105 systems is unlike any plasma you've seen before. Featuring built-in intelligence and a revolutionary single-piece cartridge consumable, Powermax SYNC™ series helps to address skilled labor shortages with its simplified system operation. This new platform streamlines consumable inventory, lowers operating cost, and maximizes performance and productivity.
Available at authorized store locations worldwide.
Eliminate errors
Single-piece color?coded cartridge eliminates consumable mix-ups, simplifies inventory management, and makes it easy to find the right cartridge consumable.
SmartSYNC™ torch eliminates set-up errors by automatically setting the correct amperage, air pressure, and operating mode.
Embedded technology tells you when the cartridge is completely used up and ready to be replaced.
Minimize operating costs
Simplified operation minimizes downtime, troubleshooting, waste, and training time.
Advanced cartridge consumable provides up to twice the life for hand cutting and improved quality over life in mechanized setups compared to standard consumables.
Cartridge data helps you track performance and analyze patterns helping you improve.
Maximize performance
Interchangeable torches and application-specific cartridges allow you to tackle a range of jobs from cutting and gouging to flush cutting.
Time-saving controls directly on the torch make it easy to adjust the amperage and change the cartridge without returning to the power supply.
Single-piece cartridge allows you change-out consumables in seconds, instead of minutes.
Enjoy industry-leading reliability
Designed with the industry-leading reliability Powermax is known for.
Engineered for rugged, industrial environments with SpringStart™ technology to ensure consistent starting and a more reliable torch.