How new X-Definition™ plasma compares to laser
Featured Product from Hypertherm, Inc.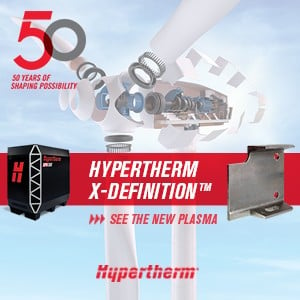 XPR® and X-Definition™ plasma brought with them numerous new process technologies that delivered a step-change difference in performance, even compared with the recent generation of high definition systems. ISO 9001 measures a cut edge's deviation from perpendicular and encompasses 5 ranges, with 1 having the least deviation and 5, the greatest deviation from perpendicular. Whereas on mild steel, conventional plasma is primarily an ISO range 4 and 5 cutting technology and high definition is primarily a range 3 and 4 cutting technology, X-Definition Plasma is primarily an ISO range 2 and 3 cutting technology. Another difference is that it holds onto those ranges for much of its enhanced (compared with earlier generation systems) consumable life. Read the article.