New features available for ProNest® software
Featured Product from Hypertherm, Inc.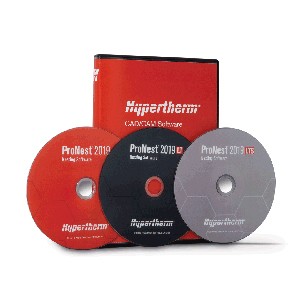 Hypertherm's ProNest® advanced CAD/CAM nesting software for plasma, laser, waterjet and oxyfuel automated cutting contains numerous enhancements designed to enable customers to achieve more. New features include:
Dynamic align – Allows users to create a connected column or row of rectangular parts, aligned on one side. Aligned parts can be connected with a common line or bridge, then quickly bumped together manually on the nest into dynamic align columns or rows. Dynamic align parts can also be created during automatic nesting.
3D CAD Part Bevel Detection - Identifies beveled edges on SOLIDWORKS® and Inventor® parts and automatically assigns ProNest beveling to them during import. Single and multi-pass beveling is supported.
Output for Multiple Machines - Creates NC output files for one or more additional machines at the same time as output for the current ProNest machine.
In total, this new version builds upon the already market leading capability of ProNest 2017 with the addition of more than a dozen new features and enhancements covering everything from common line cut sequencing to ERP integration to machine interface modules; many of which are suggestions provided by current users.
ProNest® not only drives your machines, it's also a key component of your entire cutting and fabricating ecosystem, with everything from quoting, to part design, to reporting, and managing inventory. ProNest even connects to ERP/MRP for real time data exchange.
Users with an active Software Subscription can upgrade to this new version at no additional charge and continue to receive unlimited technical support, and other benefits. Others interested in trying ProNest can obtain more information and request a trial at www.hypertherm.com/ProNest.