ProNest® LT Part Nesting, starts at $29.99/month
Featured Product from Hypertherm, Inc.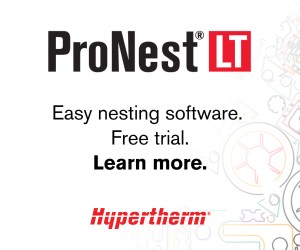 ProNest® LT is a powerful CAD/CAM part nesting software designed for light industrial, mechanized cutting in production environments. It provides a single software solution for all your conventional plasma and oxyfuel cutting machines. ProNest LT is now available as a subscription starting at $29.99/month, making it the smart choice for DIY or small manufacturing businesses.
Benefits include:
Brought to you by Hypertherm, with 50 years of industrial cutting experience and more than 160 technology-related patents.
A single software solution - Consolidate your programming to a single software application that supports virtually any cutting machine brand or model.
It's easy to use. Spend less time programming and more time cutting.
Automatic nesting available providing advanced algorithms provide efficient, true shape nesting with the click of a button.
Better part quality, using cutting techniques like dynamic feed rate, provides cleaner edges, improved hole quality, and sharper corners.
Unlimited technical support access to Hypertherm's tech service engineers is included at no additional charge.