Vehicle Electronics
Service Detail from IAV Automotive Engineering, Inc.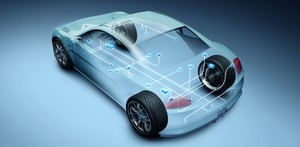 Our specialists are in full command of all facets of vehicle electrics and electronics
We have consistently expanded our expertise in the field of vehicle electronics, specializing in the new high-voltage systems as well as prototype and low-volume development activities. But we are also experts in the broad field of body electronics: Our specialists can provide you with support at all stages and with all aspects of the "V-Model" process, from specification and hardware/software development to testing. Alongside our proven simulation and development expertise, we can also offer you cutting-edge, in-house testing facilities for projects in the light and vision department.
The services we provide in developing production-ready software form the bridge between vehicle manufacturers and component suppliers. We develop new algorithms and can get them ready for use in mass production, safeguarding the exclusive nature of our clients' ideas. When it comes to testing electronic systems, compromise is not an option - in checking the conformity of vehicle data networks as well as the associated protocols and hardware interfaces, for instance.
---