3D vision sensor available for Universal Robots
Featured Product from ifm electronic gmbh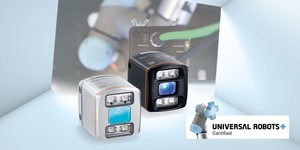 ifm vision system for Universal Robots available
Robotics: Plug-and-play integration of the 3D vision sensor possible thanks to newly developed software
Universal Robots (UR) from Denmark are worldwide pioneers in the field of modular and cost-efficient lightweight robots. In particular small and medium-sized companies combine cooperative robots individually according to the modular system to cooperate hand in hand with the expert staff. There are numerous applications for these robots. For example, they assume pick-and-place tasks in the fields of palletising and packaging or in the fields of assembly or machine tending.
3D cameras for mobile applications
Reliable data provision via Ethernet UDP
Fast distance measurement with time-of-flight technology
Suited for use in mobile machines
Compact and robust housing
Very long sensing range up to 35 m
3D sensors
The O3M is a photoelectric 3D sensor which measures the distance between the sensor and the nearest surface point by point using the time-of-flight principle. The unit illuminates the scene with an external infrared light source and calculates the distance by means of the light reflected from the surface.
Thanks to its outstanding shock and vibration resistance, the sensor is suited for use in mobile machines. The O3M can be used on agricultural machinery for automatic swath detection and line guidance. It detects the volume flow of the harvested material and simultaneously provides a driver steer and speed recommendation to the vehicle control system. Installed on construction machines and municipal vehicles, the sensor can be used to prevent collision. Obstacles in the path are safely detected.
Visual assessment of distance, level or volume
Reliable function due to time-of-flight measurement
Illumination, measurement and evaluation in one unit
Output of distance and grey values
Integration by means of intuitive parameter setting software
Watch>>>Close to you
After many years of intensive cooperation with our customers we have established ourselves in the market as service-oriented sensor specialists and today we are represented by more than 7,000 employees in over 85 countries worldwide. Even though we have grown into a big company we have still maintained the virtues of the founding years: The flexibility and individuality of a small enterprise and the quality and professionalism of a group. And our customers are still today in the centre of our work - close to you.
ifm
ifm develops, produces and sells sensors, controllers, software and systems for industrial automation and digitalization