A must for extraction systems on machines
Featured Product from ifm electronic gmbh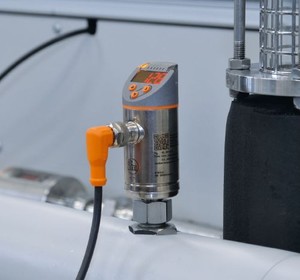 Specially developed for fresh and exhaust air monitoring on machines
Special adjustment to air for optimum performance
Robust probe for demanding applications
2-in-1: flow velocity and temperature
Improved performance thanks to IO-Link
Flexible parameter setting, diagnostics and data handling thanks to IO-Link
A must for extraction systems on machines
During machining or forming processes, the use of coolants, for example, may generate toxic aerosols, smoke or vapours. Extraction systems ensure that these do not escape from the machine. What is very important is to maintain the ideal flow velocity. If the suction is too weak, the dangerous vapours would not be completely extracted. On the other hand, too strong an extraction flow could suck in chips or cooling lubricant which could clog the filter. The flow sensor, which operates according to the calorimetric measuring principle, has been developed especially for this purpose. It is distinguished by a robust full-metal probe that is resistant to aggressive aerosols, vapours and any particles carried in the extracted air. This ensures a long service life of the sensor. The integrated temperature measurement reduces costs and installation complexity, as no additional sensor is required.
Follow ifm online:
Watch>>>Close to you
After many years of intensive cooperation with our customers we have established ourselves in the market as service-oriented sensor specialists and today we are represented by more than 7,000 employees in over 85 countries worldwide. Even though we have grown into a big company we have still maintained the virtues of the founding years: The flexibility and individuality of a small enterprise and the quality and professionalism of a group. And our customers are still today in the centre of our work - close to you.
ifm
ifm develops, produces and sells sensors, controllers, software and systems for industrial automation and digitalization