Automation technology for the food industry
Featured Product from ifm electronic gmbh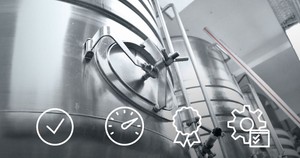 Read the Food Industry 2021 catalogue conveniently online
Reliable automation technology for the food industry
ifm's specially developed food application product range comprises innovative position sensors, process sensors, control systems and connection technology. The sensors are made of high-quality food-grade materials. They have a hygienic housing design and are distinguished by high ingress and temperature resistance and protection against high-pressure cleaning with aggressive agents. Mating connection technology with protection rating IP 68 / IP 69K as well as stainless steel mounting accessories especially designed for the food industry complete the product range. All units and systems comply with the required standards and directives.
Follow ifm online:
Watch>>>Close to you
After many years of intensive cooperation with our customers we have established ourselves in the market as service-oriented sensor specialists and today we are represented by more than 7,000 employees in over 85 countries worldwide. Even though we have grown into a big company we have still maintained the virtues of the founding years: The flexibility and individuality of a small enterprise and the quality and professionalism of a group. And our customers are still today in the centre of our work - close to you.
ifm
ifm develops, produces and sells sensors, controllers, software and systems for industrial automation and digitalization