Capacitive illuminated pushbutton KT6100
Featured Product from ifm electronic gmbh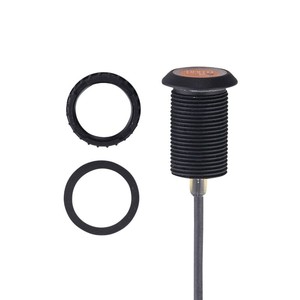 KT6100 - Capacitive illuminated pushbutton; Operating principle dynamic; (static; bistable parameterisable); normally open / normally closed; DC PNP/NPN; 2 m PUR-Cable; IP 65; IP 67; IP 69K; (on the front); 3-wire; Ambient temperature -20...80 °C
Multi-colour touch sensors with IO Link
Flexible adaptation to the application by one individually adjustable sensor even in wet environments
Ergonomic working by softly touching the sensor
Start-up delay prevents unintentional switching
Various setting options such as colour, NO/NC or triggering via IO-Link
Adjustable brightness and sensitivity in wet environments or when operators wear gloves
Plant condition indicated via RGB LEDs
Versatile sensor for all applications
The new multi-colour touch sensors from ifm allow flexible adaptation to your application. Where many different sensors were required before, one individually adjustable sensor is sufficient today. The NO/NC function or the colours for different operating states can be set within seconds. In addition, dynamic, static or bistable switching of the sensor can be selected.
Adaptable to the environment
The adjustable sensitivity allows use in very wet environments or actuation with gloves. The implemented delay time prevents unintentional switching of a sensor. All settings remain stored even if the sensor is used without IO-Link. The sensor also counts the switching cycles for demand-oriented maintenance of the machine
Watch>>>"close to you!" - is not only our claim - it is our formula for success
ifm
Measuring, controlling and evaluating - When it comes to pioneering automation and digitalisation technology, the ifm group is the ideal partner. Since the foundation in 1969 ifm has developed, produced and sold sensors, controllers, software and systems for industrial automation and digitalisation worldwide. Today the ifm group family-run in the second generation with more than 7,000 employees in 70 countries is one of the worldwide industry leaders. ifm combines the internationality and innovative strength of a growing group of companies with the flexibility and close customer contact of a medium-sized company.
ifm – close to you!
At ifm, the key to success has always been people. A sales and service team of more than 1,650 people - which is above average - supports customers worldwide. The experts on site know the regional conditions and ensure individual and trusting support. More than 1,000 people in research and development work in close partnership with the customer as well as research institutions and universities to find solutions for the requirements of tomorrow. More than 880 patents and about 100 new patent registrations in 2018 are the result of this commitment.
A huge variety of products
ifm's exceptionally large product portfolio does not only cover all relevant standard solutions but also the special requirements of individual industries. In addition to position and process sensors, sensors for motion control and safety technology are part of the product range. Furthermore ifm offers products for industrial imaging and communication as well as identification systems and systems for mobile machines.
 
Besides, ifm has been developing more and more innovative Industry 4.0 solutions and equivalent software and cloud products.